White, rosé and red sparkling wines.
Maison Ackerman specializes in the production of the Saumur and Crémant de Loire appellations according to the méthode traditionnelle. It is a key producer of the Loire Valley and the leading actor when it comes to Loire Valley sparkling wines. Combining tradition and innovation, these highly expressive and aromatic blends will provide you with premium wines as well as trendy brands, thereby adapting to all of your tasting and sharing moments.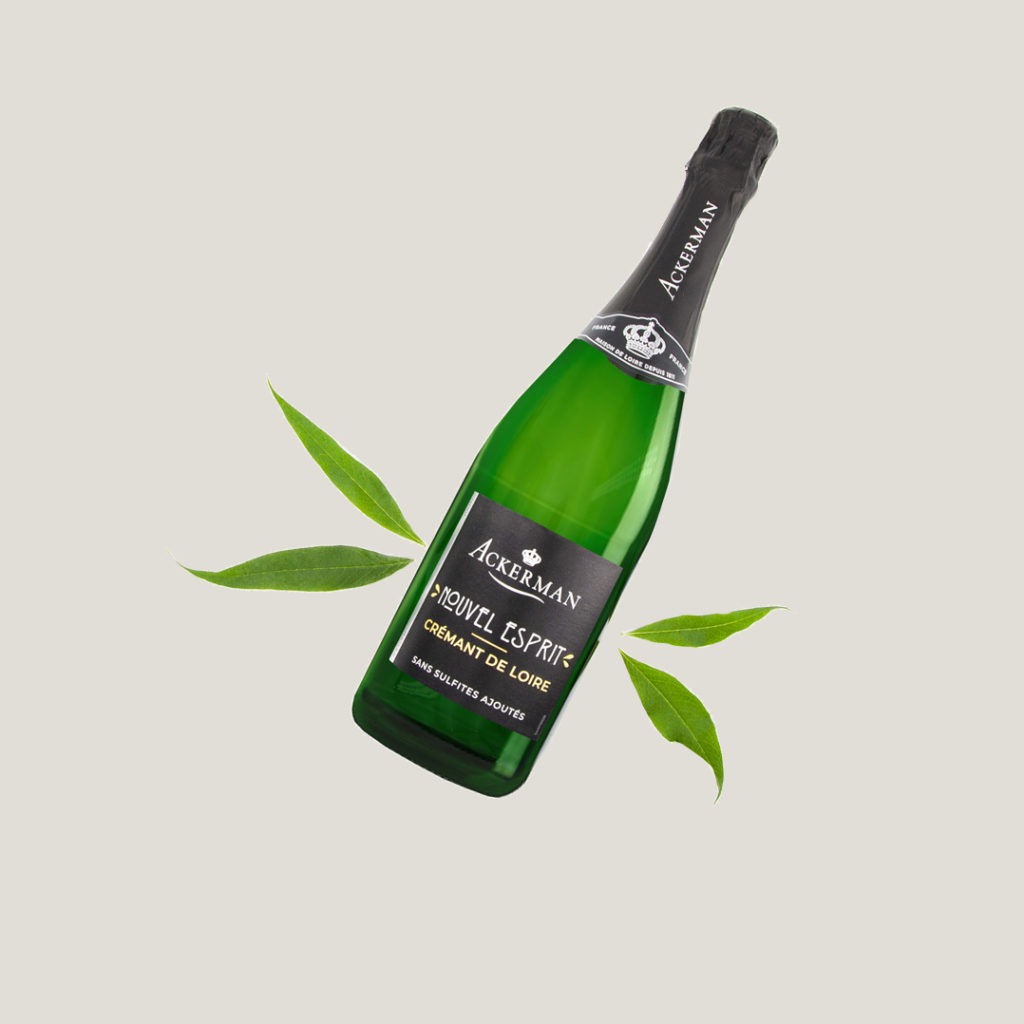 Our Nouvel Esprit range - Without added sulfites and Vegan
C'est parce que nous souhaitons révéler le meilleur des appellations, que nous avons crée la gamme Nouvel Esprit. En choisissant de ne pas utiliser de sulfites, nos vignerons doivent être encore plus vigilants et innovants pour vendanger un raisin en très bonne santé et à bonne maturité ! Quelques exemples : des solutions de biocontrôle avec l'utilisation d'argile sur la vigne pour se prémunir des insectes ou encore la semence de radis comme engrais vert favorisant ainsi la biodiversité. Notre démarche est contrôlée par une organisme indépendant : Bureau Véritas.
«Cela fait plusieurs années que nous travaillons sur la conduite de nos vignes et sur les techniques innovantes permettant de ne pas utiliser de sulfites. Nouvel Esprit est le résultat de ces années de recherches.»
F. Gouraud, oeologue.
Nos fines bulles gastronomiques sont l'emblématique signature de la Maison Ackerman, incarnant ce que Jean Baptiste Ackerman, fondateur de la Maison, cherchait à offrir à ses clients : des cuvées élégantes d'une grande finesse aromatique. Elles sont l'emblème des meilleurs cépages de Loire et le témoignage d'un savoir-faire ancestrale, d'une sélection rigoureuse des grappes à l'optimum de leur maturité et d'un long élevage sur lattes venant magnifier le travail de l'assemblage. La patience, la compréhension, le respect du temps de chacune des étapes et le travail d'orfèvre sur la liqueur d'expédition en font des vins de sélection.
Ambassadeur de l'art de vivre ligérien, Ackerman a à cœur de transmettre sa passion du vin et de donner un sens à la dégustation.
La gamme gastronomique peut s'accorder avec une multitude de mets, du plat le plus élémentaire au plus sophistiqué. Il s'exprimera par exemple sur un simple morceau de parmesan comme sur un turbot à la truffe.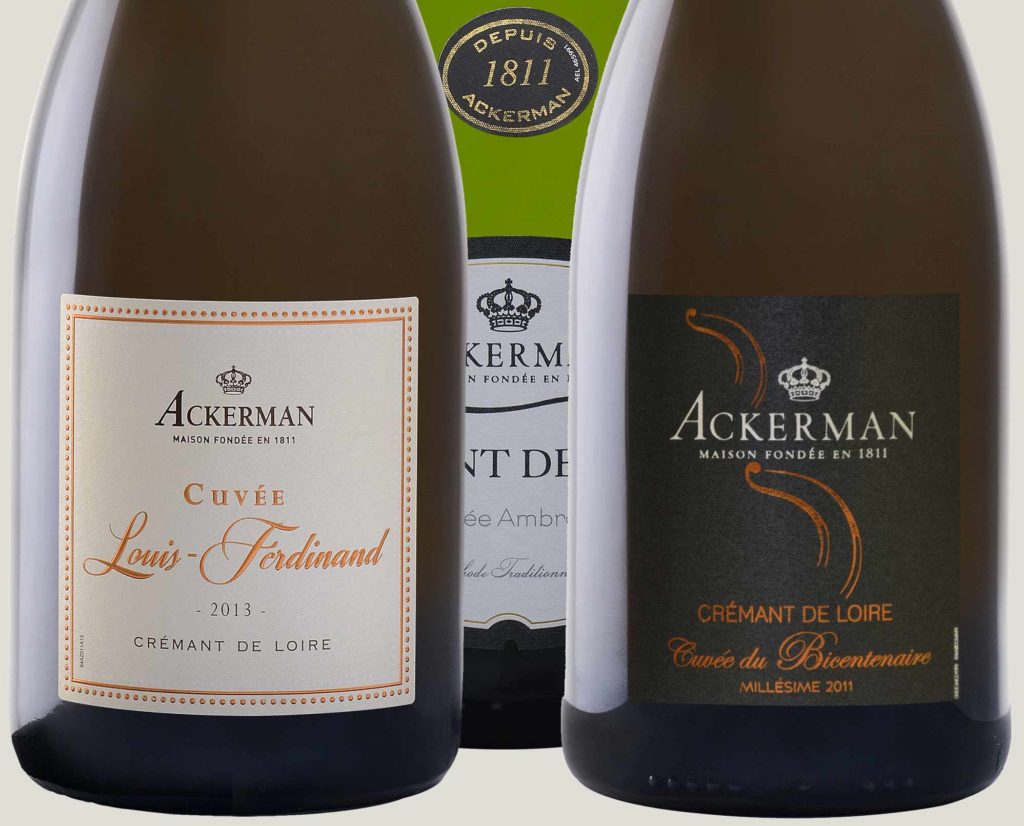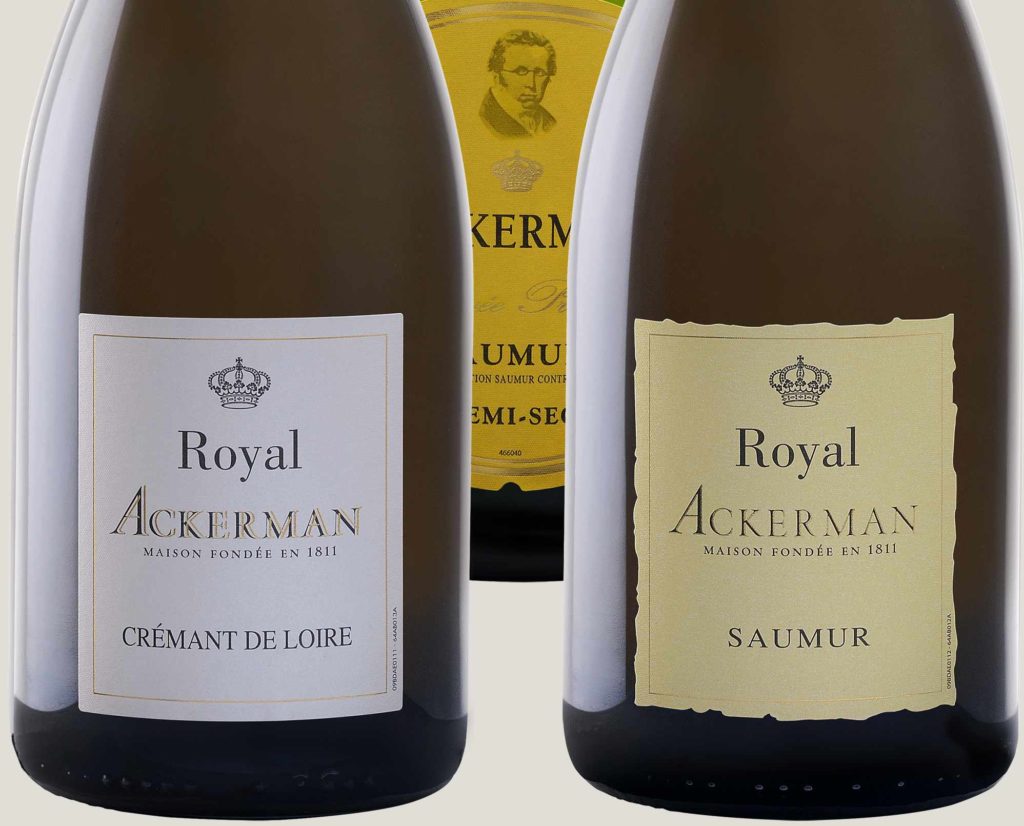 Winemaking is a passion for our Cellar Master, as is providing pleasure. Our traditional wines display a style that is specific to Maison Ackerman, a combination of finesse and aromas – this is an ideal balance defining our sparkling offerings. We are striving to sustain and transmit this identity from one harvest to the next, from generation to generation. As a result, we bring out the best in our varieties by paying special attention to freshness, aromas and balance, in view of proposing accessible sparkling wines that can be appreciated by everyone. The expedition liqueur's role is first and foremost that of highlighting the blend's complexity, all the while maintaining the expression of the terroir.
Our trendy sparkling wines
These fine sparkling wines come from an original combination representing Maison Ackerman's expertise and spirit of innovation. For example the tradition of Chenin noir – the Loire's oldest variety – and the modernity of Chenin, a typical more recent Loire variety, appreciated by connoisseurs. These original blends create products with aromas expressing unusual complexity. Generous and audacious red, white and rosé sparkling wines, for lovers of new experiences, aesthetes, cocktails and drinks on ice. Elaborated from a blend of the best Loire Valley varieties, they have come as a surprise, by breaking with the traditional codes governing sparkling wines. In our quest for winemaking expertise, we have developed a genuine alternative to alcohol-free sparkling wines, without of course compromising the standard of quality, thanks to the investment of our teams and the use of high-tech low temperature procedures which entirely remove alcohol from the original wine, all the while retaining the flavors and aromas.