White, rosé and red sparkling wines.
Maison Ackerman specializes in the production of the Saumur and Crémant de Loire appellations according to the méthode traditionnelle. It is a key producer of the Loire Valley and the leading actor when it comes to Loire Valley sparkling wines. Combining tradition and innovation, these highly expressive and aromatic blends will provide you with premium wines as well as trendy brands, thereby adapting to all of your tasting and sharing moments.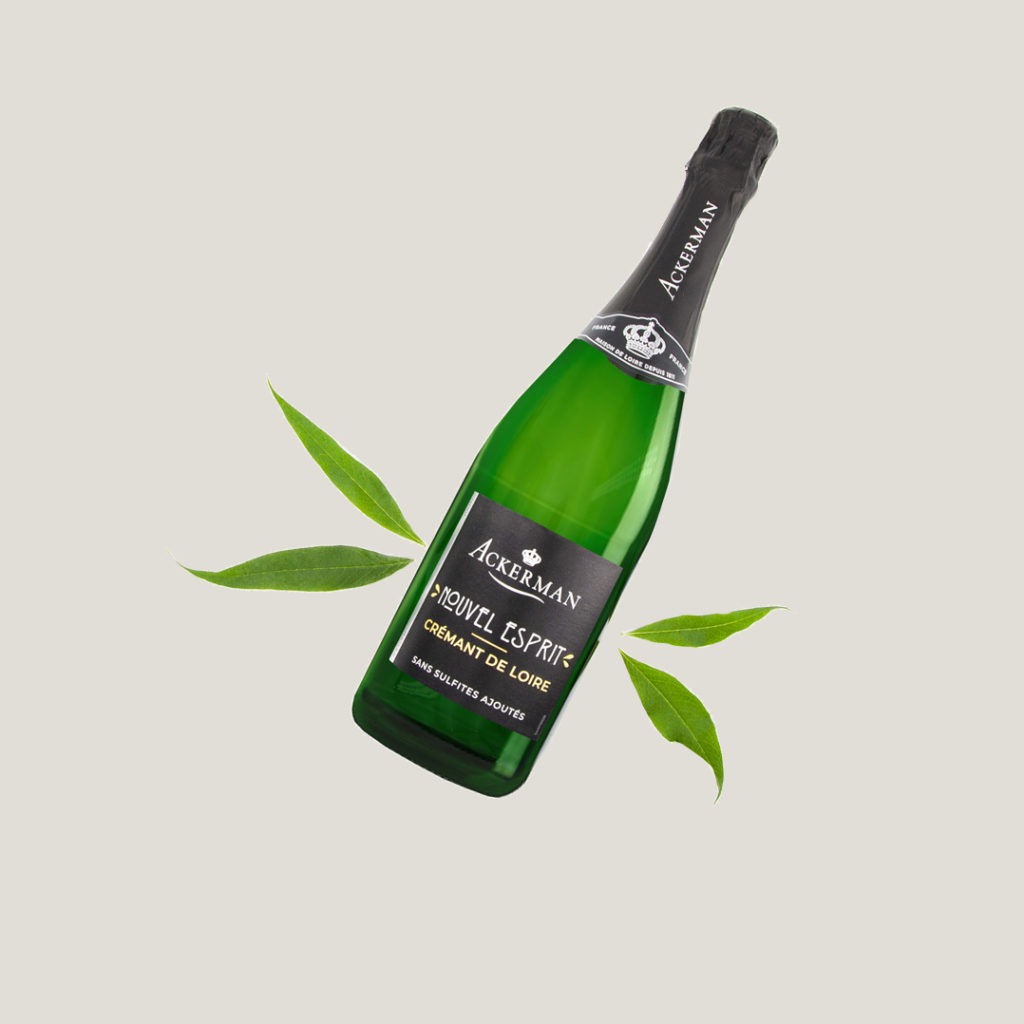 Our Nouvel Esprit range - Without added sulfites and Vegan
As we want to reveal the best that our appellations have to offer, we have created the Nouvel Esprit range. In deciding not to use sulfites, our vintners have to be even more vigilant and innovative in view of harvesting very healthy and well-ripened fruit! Here are some examples: biocontrol solutions such as applying clay to the vines to offer a protection against insects or the use of radish seeds as green fertilizers to promote biodiversity. Our measures are controlled by an independant entity: Bureau Véritas.
"Over the past few years we have been working on vine-growing procedures and on innovative techniques, allowing us not to use sulfites. Nouvel Esprit is the result of these years of research." Gouraud, winemaker.
Our gastronomic sparkling wines are Maison Ackerman's emblematic signature. They incarnate everything that Jean Baptiste Ackerman, the founder of the House, wanted to offer to his customers: elegant wines with great aromatic finesse. They symbolize the best Loire Valley varieties and bear witness to an age old know-how. Thanks to this expertise, the fruit is carefully selected at optimum maturity and the wine is aged for a long period on laths in view of enhancing skillful blending. Patience, comprehension, respecting the time periods of each step, and the tremendous work dedicated to making the expedition liqueur all combine to produce great wines.
… Ambassador of the Loire Valley's art of living, Ackerman is committed to transmitting its passion for wine and to giving a sense to tasting. The gastronomic range pairs perfectly well with an array of food, from the simplest to the most sophisticated meal. For example it is expressive with a piece of parmesan or with truffle-flavored turbot.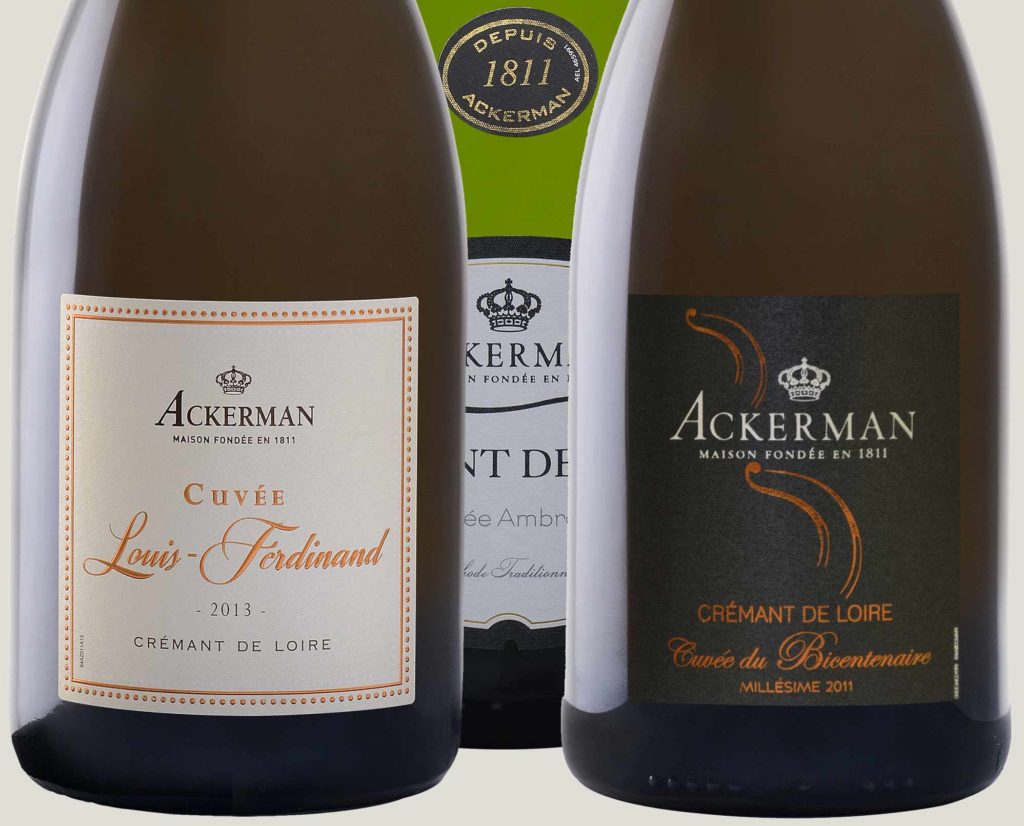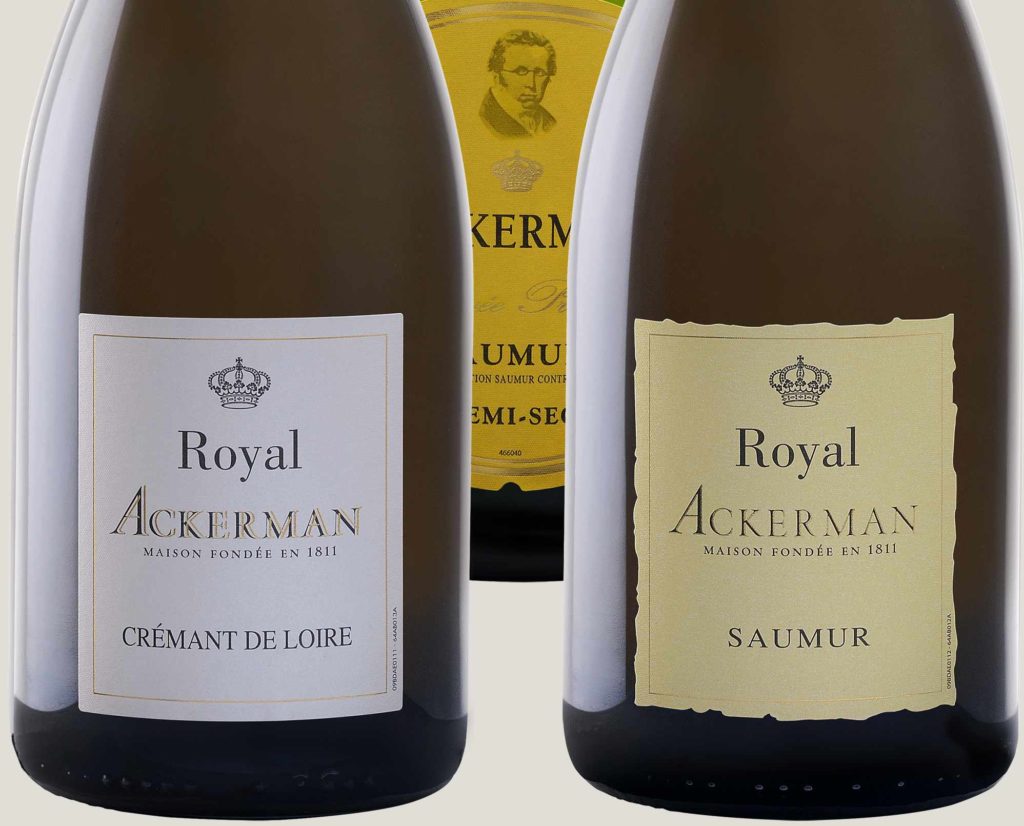 Winemaking is a passion for our Cellar Master, as is providing pleasure. Our traditional wines display a style that is specific to Maison Ackerman, a combination of finesse and aromas – this is an ideal balance defining our sparkling offerings. We are striving to sustain and transmit this identity from one harvest to the next, from generation to generation. As a result, we bring out the best in our varieties by paying special attention to freshness, aromas and balance, in view of proposing accessible sparkling wines that can be appreciated by everyone. The expedition liqueur's role is first and foremost that of highlighting the blend's complexity, all the while maintaining the expression of the terroir.
Our trendy sparkling wines
These fine sparkling wines come from an original combination representing Maison Ackerman's expertise and spirit of innovation. For example the tradition of Chenin noir – the Loire's oldest variety – and the modernity of Chenin, a typical more recent Loire variety, appreciated by connoisseurs. These original blends create products with aromas expressing unusual complexity. Generous and audacious red, white and rosé sparkling wines, for lovers of new experiences, aesthetes, cocktails and drinks on ice. Elaborated from a blend of the best Loire Valley varieties, they have come as a surprise, by breaking with the traditional codes governing sparkling wines. In our quest for winemaking expertise, we have developed a genuine alternative to alcohol-free sparkling wines, without of course compromising the standard of quality, thanks to the investment of our teams and the use of high-tech low temperature procedures which entirely remove alcohol from the original wine, all the while retaining the flavors and aromas.