Our Troglodyte caves in Saumur
By their huge size and their labyrinthine-like nature, Ackerman's caves recall the Jules Verne novel, "Journey to the Center of the Earth." Like the characters of the famous writer, our visitors experience an exciting immersion inside the astonishing world of a bubble.
Firmly rooted in its territory, Maison Ackerman also fully invests in the development of tourism and the enhancement of heritage. It is the proud owner of an architectural gem, troglodyte caves – the highest in the region – currently used to display temporary exhibitions, bringing together wine, troglodytes and experimental art. Since 2009, this prestigious fine sparkling wine house, has decided to support contemporary art, in particular since 2014, with the creation of an artists' residency: Ackerman + Fontevraud La Scène.
A voyage throughout history and time
If you want to take your passion for wines a bit further, Ackerman allows you to fully discover the heritage of Loire Valley wines. It also reveals its pioneering expertise when it comes to fine sparkling Loire Valley wines, and its leadership when it comes to the Crémant de Loire and Saumur appellations.
Relive the saga of Jean-Baptiste Ackerman, the pioneer of Loire Valley sparkling wines.
Learn about the secrets of the méthode traditionnelle.
Explore the heart of our unique and monumental tuffeau stone caves.
Keepers of a genuine treasure, our caves bear witness to a long history and the talent and the work of our predecessors.
Cave Artwork + Fontevraud
The process of creating a wine comes from a terroir, a vineyard, a blend, and Maison Ackerman's collaborators, the expertise of which, has been handed down from one generation to the next… As a result, the wines produced by our winemakers express all of the expertise, innovation and creativity of our Saumur house. Along the lines of its wines, Maison Ackerman displayed boldness, when it decided to support creativity, most especially plastic arts. This project was a first of its kind for the region. Our house joined forces with the Royal Abbey of Fontevraud in 2015, in view of creating the ACKERMAN RESIDENCY + FONTEVRAUD ON STAGE. Each year this initiative allows an artist to make use of this unique creative space in view of installing an immersive exhibition, sublimating the location and emphasizing the magic of the region's tallest caves.
Maison Ackerman's caves, an amazing creative haven
Maison Ackerman's caves are a unique artistic location and an amazing creative haven for an artists in residence program. But this is not an art gallery. It is a combination of spectacular troglodyte galleries, magnified by unexpected artistic installations, for all to see.
– made to measure experiential and singular works of art
– grandiose and fleeting works of art, in complete osmosis with the place
– genuine installations, accessible to everyone, and creating emotion and surprise
Along the lines of land art, the artist uses the spot's unique nature (troglodyte caves), its raw material (tuffeau stone) and its architecture (caves with cathedral ceilings) to come up with a creation. This is a form of art that adds to the location's special magic. It highlights our values of accessibility and promotes our region's magnificent territory. The residency welcomes an artist every three years.
Three galleries with a turnover of one artist per year.

«The Hall of Columns»(2018-2021)
Born in 1977 in the town of Lille, French plastic artist, Séverine Hubard, has exhibited numerous works in France, Europe, Africa, or even in Asia. She lives and travels between Paris and Buenos Aires.
«The initial idea was that of restoring a presence in the caves, which had been previously used to extract the local tuffeau stone. I wanted to recreate the world of a slightly mad architect, who had built constructions up to the ceiling to support the vault… The ruins of Angkor's temples, the pillars in Istanbul's water reserves, or cavern stalactites come to mind. Moreover, the work is designed to evolve, so it won't be the same in one or two years' time. Indeed, vegetation can grow in this environment, on the cave walls and the structures, thereby offering an authentic appearance, as if they've always been here.»

« Ecologia Naturotica » since 2018
Julien Salaud was a major revelation at the Montrouge Show in 2010, and has already exhibited his work at the Palace of Tokyo in Paris, Chambord, Singapore, Seoul and Madrid.
Evoking rock art, he came up with a moving and grandiose creation that you can entirely embrace. Recalling refined and fragile lace, the boldly drawn shape gradually takes form, across the ceiling and the tuffeau stone walls. Inspired by the history, luminosity and sounds of this unusual location, Julien Salaud, the 1st artist of this residency, created a temporary work of art dubbed « Heavenly River » (2015-2017). At present, Julien Salaud has returned to Ackerman's caves with a permanent display called « Ecologia Naturotica ». This is a powerful work that allows visitors to explore the cave and to take part in a privileged experience, magnified by a visual ocean.
Interview of Julien Salaud, after the creation of his first work of art in 2015 – the « Heavenly River » exhibition.

« Synthetic Monument » (2016-2019)
Vincent Mauger, the winner in 2016, is very active on the artistic scene: Pompidou Center, The National Foundation of Contemporary Art…
Vincent Mauger has bonded with this special location. He has impregnated its history, luminosity and atmosphere. This temporary work dubbed "Synthetic Monument" is a unique 9-meter high space, overlapping the existing troglodyte galleries. Vincent Mauger made this topography from colorful plastic crates with a hatched frame, recalling the ones used for handpicked harvesting. Their graphic side has offered a High Tech dimension to this 3D work of art, halfway between craftsman techniques and digital modelling, that is becoming more and more popular with growers.
Vincent Mauger – the Synthetic Monument exhibition (2016-2019) – interview in the Ackerman Caves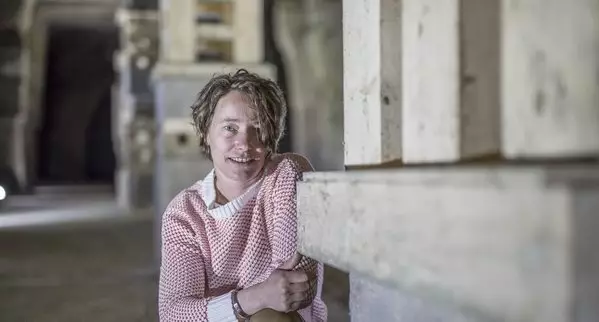 « Fragments of a mythological landscape » (2017-2019)
Video maker and photographer, Bertrand Gadenne is a French artist born in 1951, who has been noticed for his urban videos. In recent years, his works have most especially been displayed at prestigious exhibitions: "Escapes", Today Art Museum in Beijing, China. "A world without measurements", MAC, Sao Paulo, Brazil. "Previous Exhibitions -FRAC Alsace, 30 years of collections", Chapel of the Annunciation Sisters, Haguenau, "Pommery: 10 years of adventure," experience Pommery # 10.
Thanks to the perfect control of light sources and the projection of static or moving pictures, Bertrand Gadenne has created unusual situations generating a response from visitors. Halfway between poetry and mystery, fiction and reality, his work evokes travel and tells a story from one painting to the next (as if chapters). We are at once spectators and actors of this discovery. "I get visitors to use their imagination, in view of inventing their very own story. At the beginning of the tour, they are confronted with "water", and then with a 7-meter "human" presence, suggesting a fable, a tail or mythology. As a result, visitors feel teeny tiny! Other projections appear one after another, up above in a circular duct recalling a mousetrap or undulating on the rocky surface and appearing to come from the neighboring underground galleries."
Interview of Bertrand Gadenne in the Ackerman caves
"Fragments of a mythological landscape » (2017-2019)